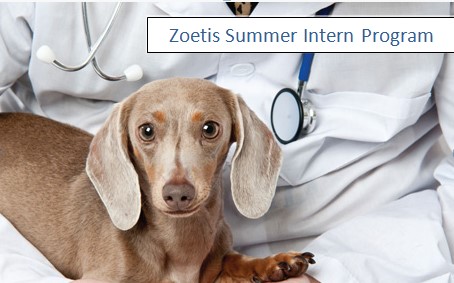 Welcome to the 2017 Zoetis
Summer Intern Program Application Portal
Thank you for your interest in the 2017 Zoetis Summer Intern Program. This program is jointly managed by Zoetis and Atrium Payroll Services. The Zoetis Summer Intern Program offers students the opportunity to gain hands-on experience while working in a collaborative and supportive environment. Interns will be employed by Atrium Payroll Services.
Summer Intern Program - Quick Facts
How do I know if I'm eligible to apply?
In order to be eligible, you must:
Be legally authorized to work in the US and not require immigration sponsorship
Be at least 18 years of age prior to the scheduled start date
Have completed at least one year of undergraduate studies
Have at least a 3.0 GPA as of the most recently completed semester
Be able to successfully pass a drug screen and background check prior to the assignment target start date (within 5 days of offer)
Be responsible for providing own funding for relocation, housing and commuting
When do the assignments begin and end?
Typically, assignments begin in May and last through August, depending on business needs and your availability.
Can I apply to multiple positions?
Yes, you may apply to multiple positions however we ask that you only apply to the positions that best fits your experience, interest and geographic preference. This will ensure that you will considered for opportunities that are best suited to you.
Please note, the listings that you view include both actual positions and types of positions. Listings that only represent types of positions will be denoted by the location "various". There may be additional positions created in the coming weeks so please revisit this Application Portal to see newly created positions.
If I apply, when will I know if I am selected?
Given the highly competitive nature of the program, we cannot guarantee that all applicants will be placed. We conduct interviews on a rolling basis; students are contacted if they are selected by managers for an interview. Interviews typically occur between February and mid-April. Applicants who are not selected for a position will be notified via email by mid-May. Communications are delivered to the email address you provide when you register. An Applicant Tracking System is utilized to issue these emails so, please be sure to check your inbox or spam folder frequently.
Where are the assignments located?
Zoetis has locations throughout the US and the online application process will ask what location you can work in. Based on our corporate presence, most opportunities will be available in:
Charles City, IA
Durham, NC
Exton, PA
Kalamazoo, MI
Lincoln, NE
Parsippany, NJ
Willow Island, WV
***Please note Zoetis will not provide any financial assistance for travel or housing to students in this program.***
If I participated in the program in the past, can I apply again for this summer?
General: Students can participate in the Summer Intern Program for a maximum of two summers.
VMRD: Students may participate for one year as an undergraduate student and one year as a graduate student.
What do I need to do to apply?
Once you determine that you are eligible to apply, you can register below by selecting New User and creating a profile. Once registered, you will have access to Run Search and apply to position(s). Applications will be accepted through this portal until March 31st.

Registration screens are disabled.
Please go to the management console to enable these features.
Please contact
for more information.